Growing up in Portland, the majority of baseball games that I got to watch were played by the Seattle Mariners. I have always been a Detroit Tigers fan, but have grown to love the Mariners as well, including many of their players.
Mike Cameron
was always one of my favorites, and recently I was looking at his career on baseball-reference.com. Usually I use this blog to examine if a player is Hall worthy, but this will not be that situation. I love Mike Cameron, but his numbers, while great, compare closest to guys like
Ron Gant
and
Reggie Sanders
, great players who do not deserve serious Hall consideration. Mike Cameron will probably make the Hall of Fame ballot, and may even get a vote or two, but that will be it. However, I found many things about his career fascinating and wanted to share them here.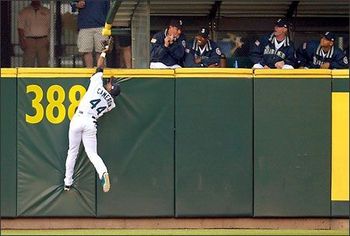 Mike Cameron finished his career with 278 home runs and 297 steals. Cameron was only 22 home runs and only 3 steals shy of joining an EXTREMELY elusive club, the 300 home run 300 steal club. The only members of this club are; Barry Bonds, Willie Mays, Alex Rodriguez, Andre Dawson, Carlos Beltran, Bobby Bonds, Reggie Sanders and Steve Finley.
This was the main reason I wanted to post, I find the 300/300 club very interesting. Power/speed is often considered the ultimate ballplayer, guys who could hit the ball out of the park and also swipe a base after they legged out a single. In fact even to this day players who have both of those skills are extremely sought after (It's the main reason people believe Mike Trout is more valuable than Miguel Cabrera). The power/speed distinction helped propel to instant fame guys like Barry Bonds, Willie Mays, A-Rod, Carlos Beltran and Andre Dawson. Mays and Dawson are Hall of Famers, and it appears Carlos Beltran will be inducted soon after his career is over. Barry Bonds, Alex Rodriguez and Steve Finley may have achieved their abilities via PEDs, casting some doubt onto their actual abilities in the power-speed category. (I will say that A-Rod and Bonds absolutely had the talent to achieve these numbers, anyone who saw Bonds in 92 or A-Rod in 96 pre-steroids knows that these two could easily achieve 300/300 without touching any illegal substances). Steve Finley, however, probably used PEDs as a way to fuel the power numbers and keep up the speed numbers later into his career. (I will point out that Finley never failed a drug test, but was implicated by his ex-wife, Tawny Kitaen, who claimed she saw him inject steroids and heard him brag about it. Trusting the opinion of the woman who danced on a car in a Whitesnake video and allegedly attacked her (other) ex-husband by stepping on his foot while he was driving is certainly not concrete, but we all trust Jose Canseco so at this point we have to trust about anybody).
I guess the main thing I find really interesting about this is that a few members of the 300/300 club are instant superstars, while the bottom few like Sanders and Finley were considered good players but never superstars, never elite and never Hall of Fame worthy. Cameron, again who falls barely short of this club, fits more into the second category. I figured this has to do with what baseball aficionados call the five tool player. Power and speed are two of the tools, but guys like Mays and Bonds and Beltran had all five tools. The other three are batting average, defense and arm. Carlos Beltran is a prime example of a great five tool guy, in addition to over 300 HR and 300 SB, (power and speed) Beltran also has a career .283 Batting average, a 7.0 defensive WAR, two gold gloves and is 24th all time in centerfield assists. That proves that Beltran was not just above average at all five categories, but was elite or at least very good all across the board. It seems like each of the second category guys had a gap or two that just separated them from the 5 tool category. Sanders was only an average fielder. He had an average arm (76th in RF assists, but 54th in games in RF) and only a 1.4 dWar for his career. He also, like Cameron, was a strikeout prone hitter, and had a career batting average of .267 (by no means bad, but certainly not anything incredibly special).
Cameron was the king of the K. He struck out a blistering 1901 times during his 17 year career, about 24 percent of his at-bats ended in a K. For a player with the speed he had there is nothing worse that he could do at the plate than strike out. Cameron hit .249 for his career with only a .338 on base percentage. So essentially, Cameron had the speed to steal tons of bases and the power to drive the ball out of the park (even at Safeco field and Miller Park, where he hit the most Home runs) but not the discipline to get on base even at a .350 pace. Cameron is considered an elite defensive player in centerfield, with a 9.7 dWar and 4,698 putouts, 11th all time for CFers. His arm was nothing special, but as a centerfielder that was not imperative.
Again I guess the interesting thing about Cameron (at least what I find interesting) is that he was a very good 3 tool player; a player with great speed, not just on the bases but in the field as well, great power for a CFer, and great defense. However, his tendency for the strikeout and poor career batting average keeps him from jumping into the Carlos Beltran/Andre Dawson club of elite outfielders, and instead keeps him down with Reggie Sanders and Steve Finley.
Mike Cameron was a joy to watch when he was in Seattle and I was younger, he hit the first home run I ever saw live when I was 10 years old during the 2001 season, and was always good for a great catch in centerfield. I hope he does not fade into obscurity as the years go by, because he was a few swings and misses away from being a superstar (okay, maybe more than just a few).
Last interesting point I wanted to make, Mike Cameron was the centerpiece in trades that included both Paul Konerko and Ken Griffey jr. That is all.