I have probably been working on creating my ultimate dream team off and on for years. It is something I have discussed in great detail with many of my friends and family members, and is always good for a friendly debate. I have decided to share my 2014 version of what my ultimate 25 man roster would look like, knowing full well that this team could change in my head while I am typing this, and will almost certainly change by the end of this month, let alone this year. I will explain some of my thought process below, but I highly encourage comments below, the most fun part of making teams like this is hearing others' opinions. Please share!
I created a 25 man roster, complete with 15 position players, five starters, and five relievers. I am assuming there is a DH for the purposes of this roster.
Sports Illustrated cover from a few years back illustrating their picks for an all time team.
Catcher

Ivan Rodriguez and Johnny Bench

I had a hard time deciding between these two guys which one would start, but it was not a hard decision which two catchers I would take for my team. Mike Piazza and Yogi Berra are the only other two who merited consideration on my part, but ultimately the combination of defense and hitting that both Bench and Rodriguez provide was the reason these two made the cut. Ultimately I believe Pudge would be my starter, but it could truly go either way.

First Base

Once again, an extremely hard decision who I would start. Stan Musial is a decision most people do not make, at least not at first base. Musial spent more time in the outfield than he did at first, but I think he provides my team more value as first baseman, especially with a stellar group of outfielders. Musial started 989 games at first base and only committed 78 errors, good for a .992 fielding percentage. Lou Gehrig is indisputable as one of, if not the best, hitter of all time and definitely earns that title as a first baseman. Your lineup would get quite a boost with either of these men starting at first.

Second Base

Robinson Cano and Jackie Robinson

I yet again have a hard time deciding who would start here (notice a theme?). The obvious solution is to platoon these two, as Cano hits left handed and Jackie Robinson hits right handed. I suppose I'll weasel my way out of making a true decision and settle with that. Ryne Sandberg, Rogers Hornsby and Joe Morgan had legitimate cases for making this team, but I think the athleticism of Jackie Robinson and the power of Robinson Cano overtake what Sandberg, Hornsby and Morgan had to offer.

Shortstop

Alex Rodriguez and Ernie Banks

This was probably my toughest decision. I have wavered heavily over which shortstops I would take to fill out a dream team roster. I believe in the time I have been making a dream team I have had at least five different shortstops; Rodriguez, Banks, Ozzie Smith, Cal Ripken, and Honus Wagner. I have also considered Derek Jeter and Robin Yount as options as well. Ultimately I settled on A-Rod as the starter and Ernie Banks as the backup. Both these men offer tremendous power and solid defense (I am choosing to look more at 1996 A-Rod as opposed to beefed up, cheating late 2000's A-Rod). Ozzie Smith was very hard to leave off the roster, on a team full of great hitters it feels like having a great defensive shortstop would really help the squad, as a potential late inning defensive replacement who could also pinch run. But I feel that A-Rods defense will satisfy, especially with Cano or Robinson at second and a good defensive third baseman. This one is a position I love hearing feedback on.

Third Base

This was far and away the easiest position to decide. I suppose you could make an argument for Chipper Jones or Pete Rose since they are switch hitters, but ultimately I felt that Schmidts' power (548 home runs compared to Jones' 468) and defense (10 gold gloves) outweighed both those two (Rose was a great singles hitter, but he was not a great third baseman and spent most of his career playing other positions). Mike Schmidt was everything you want in a third baseman, and while Chipper Jones certainly was great as well, I do not believe there was anything he really did much better than Schmidt, except hit for a higher batting average. The third base experiment for Miguel Cabrera appears to be over, had he continued to play there and put up MVP offensive numbers he may have clawed his way into this discussion, as it stands he will have to make his case as a first baseman, a much more difficult task. Ultimately the king of the hot corner is definitely Mr. Schmidt.

Outfield/DH

Disclaimer: I have created rosters before where the DH spot has to be filled by an actual DH, and each outfield position has to be filled by a legitimate leftfielder, centerfielder and rightfielder (as opposed to just picking three outfielders). For the purposes of this team I am selecting four players to start who I believe make the best roster, even though they may not have played that specific outfield spot or DHed. For what it is worth, if I were picking an actual DH my choice would be Edgar Martinez, with respect to Frank Thomas, Harold Baines and David Ortiz. My outfield would be more or less the same as the one I have below.

Babe Ruth, Ted Williams, Willie Mays, Barry Bonds, Hank Aaron, and Rickey Henderson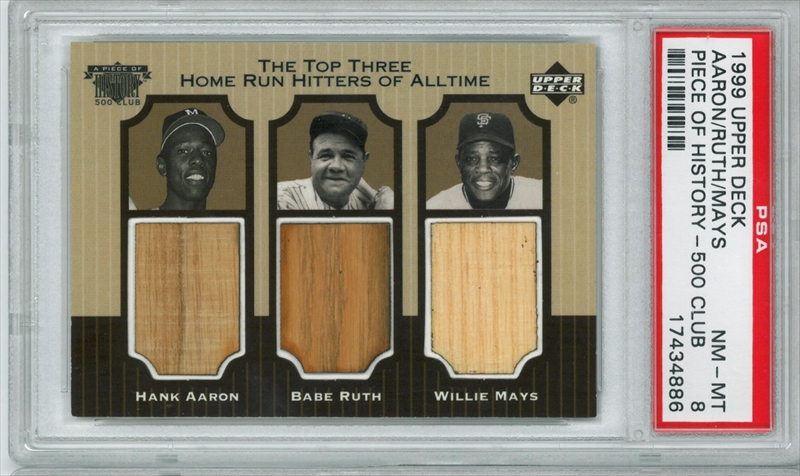 I would pay loads and loads of money for that card.
Whew. Outfielders are very often the best players in the game, so picking a crew of six was very difficult. I believe either Babe Ruth or Ted Williams will DH (both were pretty terrible outfielders). The other will play left, and of course Willie Mays will play center. I cannot decide whether I will start Hank Aaron in his natural right field, or if I will allow Barry Bonds to start, even though RF is not his natural position. The same with A-Rod, I look at 1992 Barry Bonds and see an athlete who could very easily play right, but beefed up 2001 Bonds could barely move in left field, and would be a massive liability in right. I suppose I could cop out once more and platoon them. Rickey Henderson is on this roster primarily for his pinch running ability (He is part of the reason Ozzie Smith got bumped). That was a hard call, as it forced me to leave off superstars such as Roberto Clemente, Mickey Mantle, Ty Cobb, Frank Robinson, Ken Griffey Jr, and Tris Speaker. Specifically knowing I wanted speed, I had to decide between Cobb and Henderson, and picked Rickey mostly because he had slightly more power, but also because he was a right handed hitter, and with lefties Ruth, Bonds and Williams already in the fold I thought another RH hitter would be good.

Five man Rotation (in no particular order)

Walter Johnson, Sandy Koufax, Bob Gibson, Greg Maddux, Pedro Martinez

Bullpen

Randy Johnson, Satchel Paige, Clayton Kershaw, Dennis Eckersley, Mariano Rivera

So I kind of cheated yet again, and I have eight starting pitchers and only two actual relievers (1.5 really when you consider Eckersley was a starter for the first part of his career). Still, I consider this the best ten pitchers I could get for myself, and I firmly believe having two great left handed pitchers in the bullpen makes up for only having one in the rotation. The two unique, less mainstream picks on this roster are Satchel Paige and Clayton Kershaw. Taking those guys over guys like Roger Clemens, Christy Mathewson, Cy Young, Tom Seaver or Trevor Hoffman was not easy, but gave me a more complete staff. Kershaw, in my opinion, already may be the third best left handed pitcher of all time. I know that is somewhat bold, but outside of Koufax and Randy I cannot think of another Lefty I would rather have than him. He already is dominant, can you imagine him coming out of the 'pen as a LOOGY? Left handers have hit .186/.258/.314 off of him in his career thus far. Kershaw has won the ERA title and the WHIP title 3 years IN A ROW, and led the NL in K's two of those three years. To reiterate, Kershaw was one (1!) strikeout away from leading the league in those three categories three years in a row. Absolutely unbelievable. Satchel Paige is a little harder to validate, simply because we do not have very accurate raw data on him in the Negro Leagues. However, after reading a book about Paige and his rubber arm I cannot leave him off, even for some of the more proven arms listed above. Paige had a unique delivery and was believed to throw the baseball very close to 100 mph. If given this opportunity, I could not pass up the chance to watch good old Satchel come in and bring some heat on a couple poor hitters. (I would also like to point out Satchel was not the only Negro League player I considered, both Josh Gibson and Cool Papa Bell were considered for positions in the field, but I passed on them for more proven names. Satchel however, seemed like a sure enough thing to me).

The rest of the pitching staff is pretty self-explanatory, the numbers and pure dominance of Johnson Koufax Gibson Maddux and Pedro more or less speaks for itself, and Eckersley and Rivera are, in my opinion, far and away the best two relievers to ever pitch. Once again, I absolutely welcome controversy, disagreement, requests for more explanation, etc... This is one of my favorite topics to discuss, so please bring it on.
Thanks for reading!